LEBO: A Notational Guide to the Universe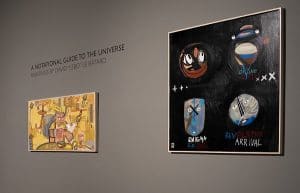 Artists: David "Lebo" Le Batard
Exhibition dates: June 19 – September 11, 2019
Museum: Bradbury Art Museum
Location: Jonesboro, Arkansas
The Park West Foundation is sponsoring a five-city museum tour of paintings by acclaimed Miami artist David "LEBO" Le Batard. His museum exhibition, "A Notational Guide to the Universe," curated by David S. Rubin, presents 30 of LEBO's paintings created between 2015 and 2018, all showing off his playful style that presents visual guides for viewers to interpret and analyze.
"LEBO's paintings are incredibly vibrant with fields of color and calligraphy that create a narrative style to convey emotion and story," said Park West Gallery Founder and CEO Albert Scaglione. "We are excited to be able to share these works with museums across the United States."
It opened at the Bradbury Art Museum in Jonesboro, Arkansas from June 19, 2019 through September 11, 2019.
LEBO's "Notational Guide to the Universe" will also appear at:
El Museo Latino in Omaha, Nebraska from January 17, 2020 through March 7, 2020
Freedman Gallery Albright College in Reading, Pennsylvania from September 3, 2020 through October 18, 2020
Monthaven Arts and Cultural Center in Henderson, Tennessee from November 7, 2020 through January 3, 2021
The Phillips Museum of Art at Franklin & Marshall College in Lancaster, Pennsylvania from January 21, 2021 through March 7, 2021