Jennifer Adams and Family
Jennifer Adams is an incredible woman with a selfless family story.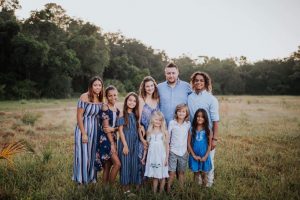 With three biological children of their own, Jennifer and her husband, Kevin, continue to put others first thinking "what else can we do to help." Seven years ago, they made a big decision to step up and really help out a struggling family. They adopted four siblings who had been removed from a drug-addicted mother to give them a shot at a great life with a loving family.
Unfortunately, at the young age of 31, Jennifer is fighting breast cancer. She is scheduled for three surgeries to have both breasts removed and reconstructed, and then she will undergo chemo and radiation. She has been unable to work, resulting in loss of insurance, and the medical bills continue to add up.
The family is simply asking for hope and prayers, but Park West Foundation is going a step further and pledging to donate $1,000 per month for the next year to help with bills and put food on the table for the family.
Jennifer said "We are so in debt already with this process it's hard to imagine ever getting out. We have bills to pay and kids to feed. We have cut back on as much as we can. Any and all suggestions and help are appreciated Thank you all. Please continue to pray for us."
A Go Fund Me page has been set up in her name. As of 10/30/2019 $8,735 has been donated. If you are interested in hearing more of her story and helping out, the link is provided below.
Go Fund Me for Jennifer Adams.