Fostering Futures Event – Detroit
Nearly $88,000 was raised at the Eighth Annual Fostering Futures Scholarship Trust Fund Event in Detroit this year.
The Fostering Futures Scholarship provides scholarships to students who have experienced foster care in Michigan on or after age 13.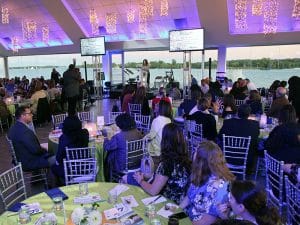 Park West Foundation served as a Graduate Sponsor for an event in Detroit at the Roostertail on the Detroit River. The Foundation has sponsored events funding the Fostering Futures Scholarship since the programs inception. The Foundation members also volunteer on the Fostering Futures Scholarship planning committee.
All proceeds from dinner reservations, sponsorships, auction and raffle items are awarded as scholarships to former foster youth currently enrolled at Michigan colleges and universities. During the 2018-19 academic year, 509 students were eligible to receive scholarships. Their scholarships were paid directly to over 50 different institutions. Proceeds from this event will be awarded to more than 540 youth.
Read more about the Park West Foundation's support of youth in Southeastern Michigan aging out of the foster care system here.