Empowering and Inspirational Weekend at Annual Michigan CASA Conference
Park West Foundation would like to send a big "thank you" to Brenda Baker-Mbacke with Care and Oakland County Court Appointed Special Advocate (CASA), for helping to coordinate an empowering and inspirational weekend with CASA Michigan at the annual statewide conference in Novi, Michigan.
A CASA is a trained community volunteer appointed by a judge or referee to speak up for the best interests of an abused, neglected, or abandoned children. A CASA's advocacy helps bring urgency to a child's needs both in and out of a courtroom. CASA volunteers advocate for safety, permanence and well-being for children through independent recommendations.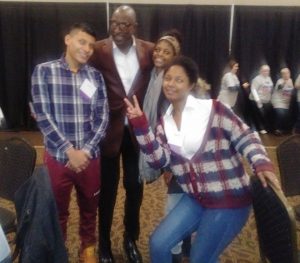 During an outstanding youth panel, participants gave insight into what is working and what needs to change.
Topics covered included the following, along with some participant responses:
What would you change in the foster care system?
Rushed or Slow responses and/or decisions made to the comfort of workers and courts, without any consideration to child's/siblings voice, emotional needs and rights including for adoptions and placements.
"I had an opportunity to visit my little sister twice after being placed in foster care. At the end of my second visit, I was told that visit will be my last. My sister's adoption has been finalized. And that's how the rules are – it's hard to understand what that means as a child – and that set me completely back. I was beginning to get my life together. The idea of separating from my sister, the loss of my sister made me lose interest in everything else. That was all I had left. Her name was changed. I don't know where to start looking. I just leave notes in her case file so one day – when she turns 18 – she will know we never forgot about her." Najera – Wayne County
As a child in foster care, what worried you most? 
When I was in foster care I worried about all these workers coming to our schools. There was a stigma associated with being in foster care and when others found out I was in foster care, they were asking questions that I didn't want to answer. Not having enough money for prom. My time: workers stopping your time because they have deadlines, need paper signed, meeting time, visit time, need you to see a dentist or doctor before court date. They don't seem to think children have important plans which could be school, after school activities or personal time to get hair done for the next day, but the rushed appointments by workers dismiss everything the child considers important; even in court scheduling, everyone in the courtroom is asked to check their schedule to set the next court date without asking the youth to do the same. We have important things to do too, our personal time is important too.
I was afraid of opening up and being judged for asking for help.
 I was worried about not knowing about resources, helpful information and about what's going to happen next. There wasn't much communication.
How was your CASA worker helping?
"My CASA worker was providing me mental and emotional support – checking on me – encouraging me. It's good to have someone that believes in you when you just don't know how to believe in you." Najera – Wayne County
"My CASA worker brought me a bike and she would show me the bike routes as we rode together. She met me at my new placement and helped me decorate my room. I took my CASA worker's advice and started to improve my attitude and relationships with everyone around me." Camilla – Oakland County
"My CASA didn't jump right into important questions about my life. He could have asked so many questions. But he didn't. He just took me to the park and we had fun. After a few visits and park outings, I knew I could trust him. Once I was comfortable I opened up on my own." Carlos – Macomb County
Following the youth panel, the 2019 Patricia Jean Wagner Award for CASA member of the year was presented to Wayne County CASA Linda Call Thomas of Hilsdale County.
Thomas, a preschool teacher, former foster child, and a dedicated defender of children's rights, has made a lifelong dedication and commitment to helping children in foster care. She is well deserving of this award!
Thomas said, "If I had a CASA worker then, most of the negative things that happened would've never happened to me. As a CASA now, I want to let kids know, someone cares."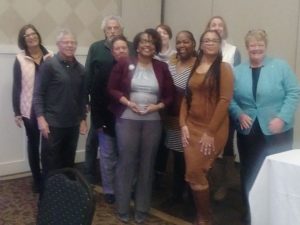 Another award handed out was for Referee/Judge of the Year. Nominated by CASA workers, the honor of this year's award went to Referee Lisa Harris, Family Court, Juvenile Division of Oakland County, Michigan.
Children with a CASA Volunteer are – More likely to be adopted; Half as likely to re-enter foster care; Substantially less likely to spend time in long term foster care; More likely to have plan for permanency, especially for children of color.
Any foster child/youth with an open foster care case can request that they would like a CASA to be assigned to them or their case during a court session. The request can be made to the assigned attorney or Lawyer-Guardian Ad Litem (LGAL).
Find out how you can become a Michigan CASA and start making a difference today.! Go to Link: http://www.michigancasa.org/volunteer.html