Park West Foundation Hosts Annual "Jump Shot Your Future"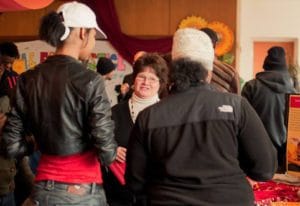 The Park West Foundation is proud to support the annual "Jump Shot Your Future" event. The annual college fair is the largest college fair for youth aging out of foster care (ages 14-24).
"Jump Shot Your Future is a youth-led and guided project that is helping to bridge the educational gap for foster youth aging out, where youth leaders formerly in foster care develop the event concept into a meaningful experience that allows the provided information to connect with their peers more effectively," says Saba Gebrai, Park West Foundation Program Director.
The event brings together resources and universities in one place so young adults from foster care backgrounds can discover that attending and graduating from college is an obtainable goal.
A plethora of vendors will be in attendance to offer resources and opportunities for the youth, including universities, tuition assistance programs and free health screenings.
The event emphasizes the troubles foster care youth experience in obtaining secondary education. Only 50 percent of foster youth complete high school by age 18, but 84 percent of foster care youth ages 17 to 18 express a desire to attend college. Unfortunately, research shows that only 20 percent of foster youth who graduated from college attend, and only 2 to 9 percent obtain a bachelor's degree.